3D Surround View / 360° Birdview
Licensable software library and application framework for embedded platforms
TES 3D Surround View (TSV) is the latest technology of driver assistance systems with vehicle cameras. Designed to increase safety and comfort through improved situation awareness it supports the principle of accident avoidance. TSV meets the rising demand for a simple and robust system for automotive, industrial and safety markets. The TSV technology is offered as software component (Library) for various embedded platforms and operation systems.
---
By enabling the use of modern standard 3D acceleration GPUs it provides a high level of performance and portability while minimizing system resources usage, in particular CPU load. The software utilizes the generic industry proven OpenGL ES 2.0 API for main rendering tasks and adapts easily to a range of hardware platforms.
Besides the well known Top View or Bird View, i.e. a single viewing perspective from exactly above the vehicle, TSV supports any viewer position and viewing angle from outside of the vehicle, i.e. full 360° Surround View. The viewing position can be changed on the fly and any number of predefined viewing positions is possible.
The TSV Auto Calibration allows determining the camera positions on a vehicle within seconds without having to position calibration patterns at precise positions. This enables a very fast system setup at a vehicle and thus an efficient process for locating the optimal camera positions at a vehicle.
TSV builds on years of experience in surround view technology and offers a very high level of flexibility and customizability to cope with specific application and system requirements often found in special vehicle applications such as construction machines.
Designed for integration in modern embedded real-time video processing systems and providing well defined interfaces it integrates easily within the customers software system, e.g. from video input and application layer point of view.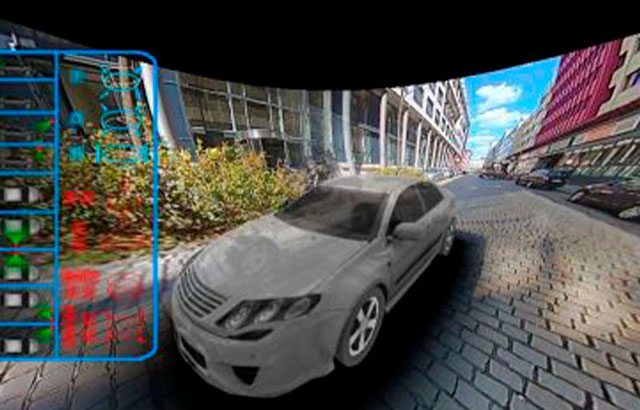 The multi-platform architecture allows porting to any operating system and the modular design enables the integration of any type of camera.
So far supported Processors:
Intel x86
NVidia TX2
NXP i.MX6, i.MX8, S32V234
Raspberry Pi
Renesas R-Car H3 and M3
Xilinx Zynq Ultrascale
So far supported Operation Systems:
---