D/AVE HD - 2D/3D graphics rendering IP core family for FPGAs and ASICs
The D/AVE HD GPU family is an evolution of the D/AVE 2D family supporting high quality 2D rendering and fixed function 3D rendering for displays up to 4K x 4K. Targeting modern graphics applications on high resolution displays in the Industrial, Medical, Military, Avionics, Automotive and Consumer
markets, D/AVE HD is designed to be fast with powerful functionality. In addition, it is configurable and optimizable regarding size and footprint. The footprint optimized variants are the ideal choice e.g. for feature rich wearables, smart watches and IoT devices with animated 2D and 3D GUIs, while the fully featured variants target performance demanding graphics in professional and high-end consumer electronics applications.
D/AVE HD is available for both FPGA and ASIC integration with high customizability and scalability and
already silicon proven e.g. in automotive products.
Product Highlights
Advanced Graphics Features:

3D graphics operations
Rotation Engine
Composition Engine
Transformation & Warping Support

High-performance pixel pipeline (typically 4 times faster than D/AVE 2D, up to 20 times for particular use cases)
Full Khronos compliant OpenVG 1.1 API (optional)
Optimized Power Management Support
Hardware multi-threading support
Hardware system security support
---
D/AVE HD Linecard
The following standard variants of D/AVE HD are available. Customizations are possible based on customer request. Please feel free to contact us!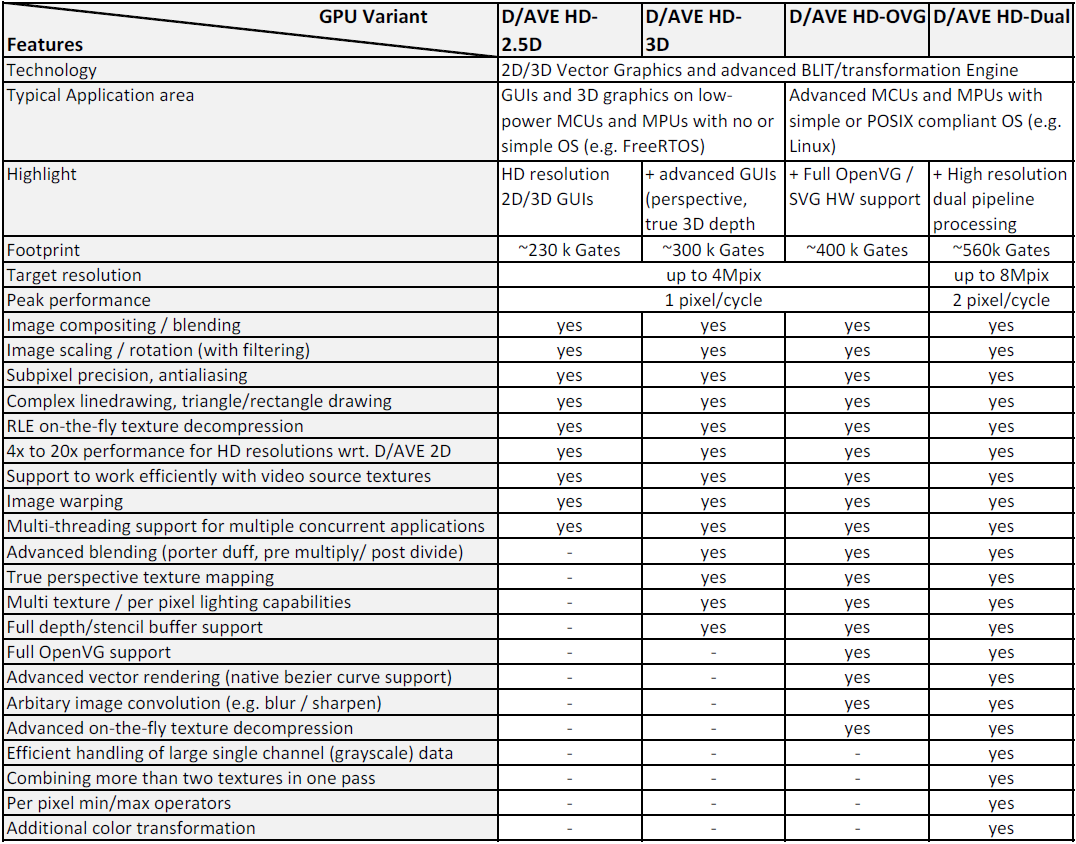 ---
APIs
D/AVE HD is provided with the following APIs. The drivers are reentrant and OS agnostic.
D/AVE HD API
Optionally:

D/AVE 2D Wrapper API
OpenVG 1.1
EGL 1.3

Others are possible on request
Contents of D/AVE HD EvalKit
D/AVE HD Qsys component, run-time limited
Precompiled FPGA configurations (.sof files) for IntelPSG development kits
Precompiled demo applications
Example Quartus projects for hardware integration of D/AVE HD
Example Nios II SBT projects for software integration of D/AVE HD
D/AVE HD API documentation
Demo source code for showing usage of D/AVE HD API
Nios II libraries of D/AVE HD kernel mode driver
Nios II sources of D/AVE HD user mode driver
Windows pixel exact software emulation of D/AVE HD (SoftD/AVE HD)

Allows evaluating all demos on PC without the need of a development kit!